Celebrate this year with Melba's Chocolates during our annual Twilight Trading hours! From the 16th to the 23rd of December, our Woodside factory will be alight with activities and fun for the whole family from 9am to 10pm!
Enjoy Mahalia Coffee, specialty hot chocolate, milkshakes, ice-creams, chocolates and confectionery whilst wandering the factory or enjoying the sunshine outside on the lawn. Why not take advantage of our picnic seating and bring along dinner? We've certainly got dessert covered. From our delicious Chocolate Raspberry Brownies, to our endless supply of tasty white, milk and dark chocolate bites, our factory is the perfect place to indulge.
Relish in the ambiance of our annual celebration, with activities promising loads of fun for the whole family. With free entry for everyone, and parking onsite, it'll be a blast! And this year, again we'll be having Father Christmas visit, along with our Giant Christmas Tree, face painting, colouring in competition and product demonstrations. All activities are free!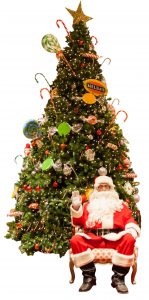 Father Christmas will be visiting our factory on the following days…
Weekdays:
Monday 18th – Friday 22nd |  3.30pm – 5.00pm // 5.30pm – 7.00pm // 7.30pm – 9.00pm
Weekends:
Saturday 16th | 12.00pm – 1.30pm // 2.00pm – 3.30pm // 4.00pm – 5.30pm
Sunday 17th | 1.30pm – 3.00pm // 3.30pm – 5.00pm // 5.30pm – 7.00pm // 7.30pm – 9.00pm
Saturday 23rd | 1.30pm – 3.00pm // 3.30pm – 5.00pm // 5.30pm – 7.00pm // 7.30pm – 9.00pm
Our resident Face Painter will be at the factory from:
Saturday 16th – Saturday 23nd |5pm until 9pm
This year we'll also have a sausage sizzle! Our resident sausage sizzler will be offering sausages, burgers and cold drinks to satisfy even the hungriest Christmas shopper. The sausages will be sizzling from 11am – 8.30pm on weekends and 5pm – 8.30pm on weekdays.
Stock up on your favourite Melba's chocolates and confectionery goodies for Christmas, with our wide range of sweets and giftware. And if you're visiting from the Lobethal Lights, why not pop by on your way there or way home, you wouldn't want to miss out on the fun!
If you can't make it in store during our extended trading hours, be sure to place your Christmas orders online.
For delivery before Christmas Day, purchases must be completed online by the 17th of December 2017. Online orders will still be accepted after this time however we are unable to guarantee delivery before 25 December 2017.
We hope you all have a wonderful festive season!