One thing is for sure, Melba's customers love to shop for their favourite chocolates and confectionery ONLINE. Besides the seasonal range, one of the most sought after products is the Melba's Inch Licorice Block.
If you haven't tried yet, then now it's the time. A fresh batch of this unique candy is made regularly at our Woodside factory.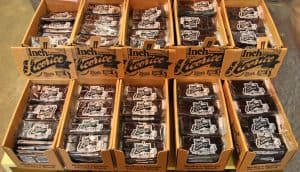 This is how you can discover Melba's Inch Licorice Blocks at Melba's Chocolate Factory
Making Melba's signature Inch Licorice Block is not an easy task. It requires special skills and years of experience. As you can see, first of all the mixture is heated to a certain temperature. Working and shaping the licorice dough the right way is quite a physical task and everything needs to be done in a certain way with certain timing to ensure the right texture and smoothness. After the dough is set, shaped and divided into inch blocks, the final stage of wrapping and packing can start.