Originally our Chocolate Room was a cheese storage room for the Wagon Wheel Cheddars. Large wooden racks were mounted on walls to take the cheese weight.
This is now where we make our rocky road using our traditional recipe of cherries, peanuts and marshmallows coated in milk, white or dark chocolate. We also make a large range of chocolate slabs in the Chocolate Room. These are almond, peanut, coconut, mint and chilli, fruit and nut, rum and raisin, chilli, and mint chip.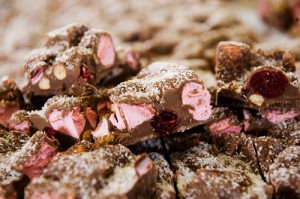 The vertical packing machine in this room is where we pack a large majority of our products. This machine heat seals the bags and prints the nutritional information and ingredients on the bags.
Also in this room is a 1958 Forgrove 22B twistwrapper.