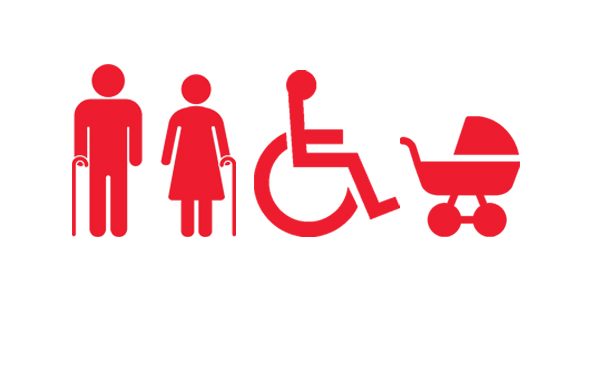 At Melba's Chocolates, our aim is to make our Factory as accessible and enjoyable for as many people as possible.
While there are some things that we are simply unable to change due to the age of the building, we have implemented other visitor-friendly measures to help make your visit to Melba's Chocolates a wonderful experience.
With our wide swing-open front door, production room viewing areas and large windows, easy to read signage and single-level roomy shop layout; visitors with wheelchairs, mobility aids and prams can comfortably explore the factory*.
Accessible parking – at the front of the Factory
Entrance ramp – 17.4% slope / 9.88 degrees
Front door – 900mm wide
Entrance gate – 1200mm wide
Production Rooms – minimum 950mm wide
Aisle widths – 930mm to 2000mm wide
Coffee Shop – 1200mm wide
Unisex accessible toilet (RH) – 800mm wide door
Our indoor and outdoor seating areas are inviting, with room to accommodate wheelchairs, mobility aids and prams.
The Factory is laid out in a simple format to enable visitors to easily navigate aisles. Aisle widths vary from 930mm to 2000mm, depending on placement of seasonal product displays.
While you're visiting Melba's Chocolates, don't forget to head up the curved ramp to Woodside Cheese Wrights and the Chesterfield Whisky Firm. Ramp length 21.6m, elevation change 2.2m.
* NOTE: During peak seasonal events such as Easter and Christmas, our Factory does become extremely busy. Please feel free to phone prior to visiting for an indication of quieter times of the day.