Melba's Gift Wrap Room
The first of many rooms, the Gift Wrap Room was originally used for waxing Edam Cheeses when the factory was home to South Australian Farmers Cooperative Union. But today it's buzzing with activity as our team continue to prepare and expand our extensive range of giftware. The combination of ribbons and colours, creative 'pizzazz' and quick nimble fingers are crucial in this room.
All of our Gift Wrap Room staff are specially trained, ensuring each gift that leaves the room is beautifully wrapped and presented – for all to enjoy. There is an immense range of ribbons, cellophane, tapes and bows scattered and stored throughout the room; it's hard to know where to look first!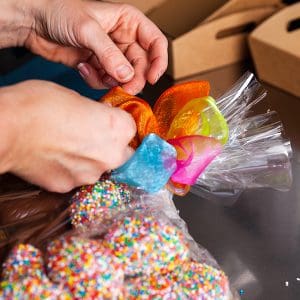 Our Giftware Range
Seasonally, our Gift Wrap Room presents unique gift options, customisable for any occasion or individual. In particular, you'll find the perfect gift for Mum or Dad on Mother's Day and Father's Day. There's an assortment of chocolate treats from large collections to smaller, more diverse varieties, perfect for everyone.  All of these gift varieties are unique to our Woodside factory.