OUR FAVOURITE EASTER STORY! IT'S THAT TIME OF THE YEAR AGAIN…
As the 20th anniversary of Melba's first bilby was approaching, Graeme & Joy Foristal, owners of Melba's Chocolates & Confectionery were on a mission to find Rebecca Hart, the courageous girl who started a sweet revolution (read full story HERE).
After few days of searching and couple of phone calls, Graeme was delighted to speak to Rebecca, who is now 28, married and has an 18 month old daughter Annabel. We had a great pleasure to welcome them at Melba's Chocolate Factory. Check out the photos and of course, you can get your own bilby at Melba's Chocolates.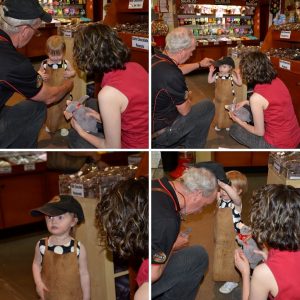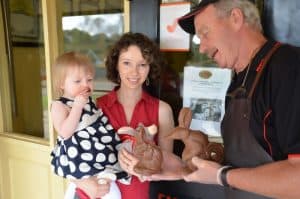 A big thank you to Rebecca and Annabel, pictured with Graeme and Melba's bilbies.
WE LOOK FORWARD TO SEEING ALL CHOCOLATE FANS AT MELBA'S CHOCOLATE FACTORY – OPEN 7 DAYS A WEEK.