Christmas is coming…
It's certainly beginning to look like Christmas at our Woodside factory. From joyful music and our wide variety of festive giftware, it's no surprise our team are excitedly gearing up for a busy couple of weeks.
It truly is the silly season at Melba's, yet besides the busy nature, the past couple of days have seen the factory come alight with festive cheer. If you've visited over the last week you would've noticed a few new arrivals. From our Giant Christmas Tree, to our giftware and outdoor entertaining space, the factory is gearing up for the highly anticipated twilight trading.
Our Giant Christmas Tree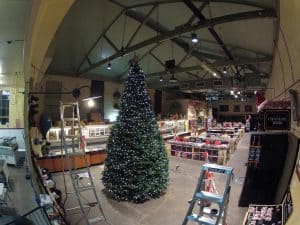 If you haven't already seen across Facebook and Instagram, our giant 15ft Christmas Tree has arrived. It sticks out like a sore thumb, and is certainly hard to miss. Our team worked hard into the night to make sure it went up before the arrival of Father Christmas next Friday, and it's decorated with an abundance of Melba's giant confectionery and chocolates.
Thousands of tiny light bulbs twinkle, with our resident handyman Shane having the fun task of wrapping them around the enormous span of the tree. Taking hours to put together, but worth every minute, the tree looms above all who visit. It truly is massive, but encapsulates all things Melba's, from giant toffee apple boils to lollypops and bon bons, the tree is a fun addition to the factory this Christmas.
Christmas Giftware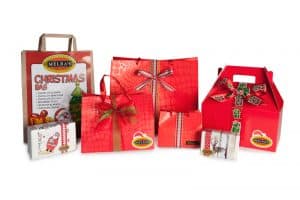 As Melba's does every year, we release a range of exclusive Christmas giftware, packed with your favourites. This year, in keeping with this, we have put together a range of products, beautifully presented for anyone and everyone who loves chocolates and confectionery. Our team in the Packing Room have been busy ensuring that each package is consistent with the last, and that they are all choc-a-block with our most popular products.
Besides stocking the shop in time for the Christmas rush, we have received a huge amount of corporate and wholesale orders for companies across the state. It's always fun sending our giftware off to those around the state, who would otherwise not have the opportunity to indulge in some of our sweet treats.
If you're interested in placing an order or would like more information about our giftware, visit our website!
Outdoor Entertaining Space
As we are anticipating the arrival of families over the twilight trading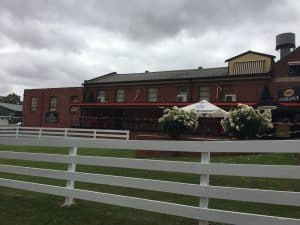 period, we have installed a fence around our grass area for those wanting picnic or a relaxed seating area. Kids are able to roam free, run around, without the stress of oncoming traffic or any other associated risks.
This was a mighty task for our team, who spent long hours in the sun, but it is all worth it. With many on the weekend, already utilising the space. And with the warm weather only set to climb, we're sure it'll promise hours of fun for families and children.
It's always fun when Christmas comes, but this year is even better, as we celebrate twenty-five years at our Woodside factory. We've gone all out and are excited to continue the celebrations with the upcoming and highly anticipated twilight trading.
For more information about our trading hours and what you'll find over the eight days of fun, be sure to visit our website.
And be sure to RSVP on Facebook to stay in the loop about our Twilight Trading!