There's nothing better than the creamy taste of Melba's milk chocolate. We all know it's delicious, you could ask anyone who visits the factory and indulges in the samples available in each of the rooms. But there's one product that truly elevates the senses, and with every bite, you'll believe us even more.
They're not a new product, or a revised one from years ago, our Milk Chocolate Aprichocs are so underrated that they didn't even make it to the Melba's Top Picks for 2017. They fly under the radar, yet surprisingly sell out every weekend.
We struggle to keep up with demand and the process of production is never as simple as it seems…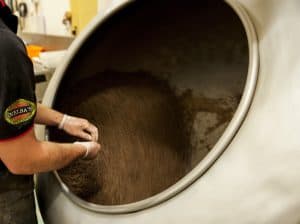 Made onsite at our Woodside factory, our team combine the minced apricot and coconut mixture to form a slab, which is firstly refrigerated, then later sliced. Once it's good to go, Ben, our Panning Expert, coats them in our milk chocolate, ensuring they are all evenly covered and perfectly rounded – creating what we know as 'Aprichocs'.
Once these Aprichocs have been coated in our Melba's Milk Chocolate, they go through a strenuous process we call 'grading'. Grading involves removing those that are damaged or aren't first grade product. This process allows us to ensure all our products are to the highest standard. But the ones that don't make the cut, they head to the seconds bay – so there is no waste from production!
These Aprichocs are available in small bags at 150g or 500g for those that truly want to indulge in these delicious bites.
So why not try them for yourself, you won't be disappointed!