Spread the Love…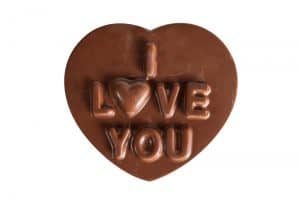 The new year has well and truly started, with children all around the state and country finally hitting the books after a summer break. It's been a fun few weeks at the factory, not only celebrating the festive season with all our visitors but enjoying the hustle and bustle of the school holidays with tourists from all over the state, country and world walking through our door!
Although our factory might seem a little calmer over the next few weeks, that doesn't mean our staff aren't busy… we're gearing up for another hectic few months. But before Easter comes along, and we begin crafting our famous Australian Chocolate Bilby's and other Easter specialties, our team are a little busy spreading the love.
Valentine's Day 2017
We're prepping for the rush of love birds as we celebrate Valentine's Day, on February 14th! It's one of our favourite annual celebrations, and my goodness are we all excited. There's nothing like spoiling that someone special. And why not do it properly with their favourite chocolate – Melba's!
The Valentine's Day fever has struck our Packing Room, with one of a kind gift baskets and boxes available, featuring some of your favourite Melba's treats.
We'll be stocking an exclusive array of giftware. The entire collection will only be available in store, with limited supply of each variety. You'd be silly to miss out on these delicious gift ideas for your special someone.
Valentine's Day in the Adelaide Hills
There's so much more to do in the Adelaide Hills besides visit our factory on the day. Why not spoil your loved one with a picnic at the spectacular Mt Lofty Botanic Gardens, which boasts 97 hectares of picturesque gardens. You could pack a picnic and head for the hills or get your walking boots on and explore the grounds! Pick up your favourite Melba's Chocolates and you'll be set for a beautiful day.
Or why not hit up some of the most iconic wine destinations and plan your perfect day, with some help from the Adelaide Hills Wine Region's  planning tools. With local wineries scattered throughout, and restaurants providing true culinary experiences, you'll be spoiled for choice.
There's so much to see and do, the only problem will be fitting it all in.
Our Woodside factory is open Valentine's Day, February 14th, from 9am to 4.30pm. If you have any more queries about our Valentine's Day range or availability of certain products, please contact our Woodside factory on (08) 8389 7868.
Spread the Love!