There's always something new to see, do and try at the factory! The only problem will be deciding what to take home…
Every day we're visited by a variety of children, from school groups, to families there's always the pitter-patter of feet scurrying through the factory doors. We're always excited to see the anticipation on children's faces as they wonder through the doors, rotate the turnstiles and discover what lays ahead.
With over 350 products, the next challenge for many visitors is deciding what to take home with them. Our factory is packed with a wide range of products, from crowd-favourites such as our Milk Chocolate Raspberries to the more unique combinations of Dark Chocolate and Ginger; it's always a challenge. Even our staff struggle to pick which ones they'll take home!
If it wasn't already hard enough, we're always introducing new products. Only recently we announced that we are producing Milk Chocolate Black Forest Slab, along with White Chocolate Cookies and Cream; both now topping our most popular list. It's always hard to keep up, and it's even harder deciding what to buy when you're visiting. Which is why, years ago, we decided to put together a variety of value packs that promise hours of delicious chocolate fun for all.
Bags of Fun!
Melba's is famous for it's quality product, country-origins and family friendly nature, and what better way to celebrate this than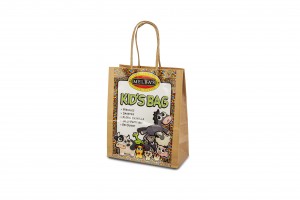 with our Kids, Frog, Farm and Dinosaur Bags. Each one is jam-packed with a variety of chocolate flavours, from hens, tractors, frogs, dinosaurs and other animals, to stickers and lolly-pops, there's so much to enjoy. And if you're after confectionery more than chocolate, our Kids Bag features Milk Freckles, Jelly Party Mix, Mini Florals, Smarties and an Apple Pop! There's just so many options!
And besides featuring an array of different animals, these packs give kids an opportunity to try a majority, if not all of our Melba's flavours. What a perfect way to see what we have on offer!
Giftware Galore!
If our Specialty Bags aren't what you're looking for, we're now home to a collection of soft toys, giant mugs and other unique collectables. We're far from your normal chocolate factory, and are always eager to excite people with the wide variety of exclusive giftware. This range is only available in store!
If you have any more queries about our Specialty bags or giftware range, please email us or contact us at our Woodside factory on (08) 8389 7868.