For many years, Melba's has been chocolate-coating your favourite treats using large copper pans in our Panning Room. And for many people, the history behind this age-old equipment is unknown – until now…
Graeme & Joy Foristal purchased the small copper pan, along with two coating pans in the mid-1990's from Australian Pure Fruits in Lobethal. This equipment would allow them to chocolate-coat favourites such as peanuts, almonds and licorice bullets, along with many other treats. Graeme understands that these copper pans originally came from Hoadley's Factory in Adelaide – since many of Rowntree Hoadley's pans were marked with a small brass name plate.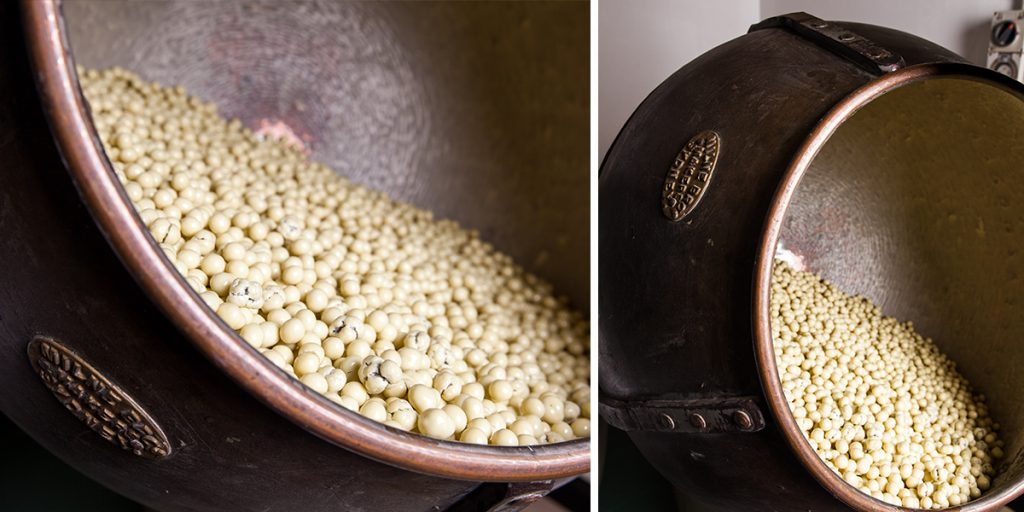 The larger of our pans was purchased from a machinery dealer in Sydney, Fleming's Machinery, about a year after Graeme purchased the first lot. This Sydney Pan had a layer of wax and gum within, leaving Graeme with the difficult task of cleaning it. In order to ensure the pan could be used in food production, Graeme put nuts and bolts into the pan and let it run for two days, next he filled it with sand and water slurry, which polished the inside. Although it was cleaner, Graeme had to use hot soapy water and elbow grease to ensure the Pan was in a usable state.
Eventually, the Pan became what it is today; an enduring piece of equipment. Although it runs fast, it has proved to be difficult to get a consistent polish on the product. Up until last year, the speed was slowed slightly, and baffles were added to ensure the product tumbled in the pan and not slide around in a big mass.
Currently, Vito, Jack and Marko work in the Panning Room, and they're responsible for producing some of our most legendary chocolate sweets. It's a difficult task ensuring each and every bite is delicious, but our range are in safe hands with this team.
Make sure you check out these Pans along with all of our traditional equipment when you're up at our factory next!