Melba's Chocolates & Confectionery have long been producing Australian favourites using traditional, age-old machinery. Each piece holds great sentiment and history, and this week we chatted with Graeme Foristal, our Founder, to find out a little more about our Enrober.
Our original Enrober came from MacRobertson's in Melbourne. Macpherson Robertson was a famous icon in Fitzroy, having established MacRobertson's Steam Confectionery Works in 1880. However, Graeme purchased the Enrober from John Shellard, who owned Pink Lady Chocolates. Not only was this Enrober in great condition, it was the last of its era still in working order.
As news spread of this age-old Enrober, Cadbury Chocolates contacted Graeme, as they were eager to replicate it. The Cadbury miniature replica was crafted as a commemoration of MacRobertson, as the iconic chocolatier had created the famed machinery upon visiting an exhibition in London during the 1900s. For access to the machine, Cadbury gifted Graeme a collection of wonderful books on chocolates and confectionery; with one book alone worth over $400.
After 12 years of marvellous chocolate creations at our Woodside factory, the machine sadly wore out, and didn't comply with modern standards.
In 2004 Joy and Graeme Foristal traveled to Europe where they visited a machinery dealer and bought the current Enrober, a DLUM German-made machine. This quality machine continues to run effectively to this day, and produces many chocolate-covered treats.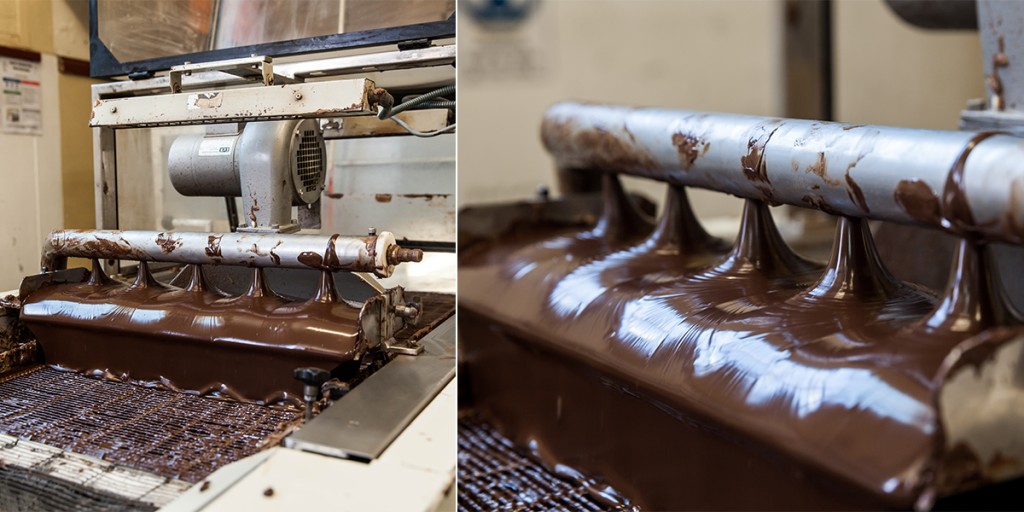 You can visit our factory and see the machinery yourself. Depending on demand, our Enrobing machine runs once a week and produces famous creations like chocolate-cover aniseed rings, marshmallows and pretzels.
The Enrober is located in the front right corner of our Toffee Room and is connected to the Cooling Tunnel.