Melba's Chocolates is famous for producing Aussie chocolate and confectionery favourites using age-old equipment and machinery. And our delicious chocolate-coated treats are no different…
Our Cooling Tunnel has an interesting history, and one that not many people would know. In the early 90's, Graeme Foristal, our Founder, was in the market for a tunnel that would set chocolate-coated confectionery. Unfortunately, many available at the time were too big for the length of our Woodside factory and were far too expensive, so Graeme decided to build his own from scratch.
The thought was quickly followed by sheer luck. As he drove to attend a function at the Grand Hotel in Glenelg, South Australia, he noticed a huge amount of refrigeration equipment by the side of the road. He rang and spoke to the chef, asking if it was available for purchase – and it was! Graeme picked up a bargain and got straight to work.
Having enquired about air flow with air-conditioning specialists, Graeme did most of the construction work himself. But he wasn't the only handyman around at the time, with six year old Tom Foristal playing a key part in the Cooling Tunnel's assembly. As they were finishing the machinery off, Graeme had two last screws to seal the air vents. Given that the entry is a mere 18cm, six year old Tom crawled into the cavity, screwdriver in hand, and did up the few nuts that remained.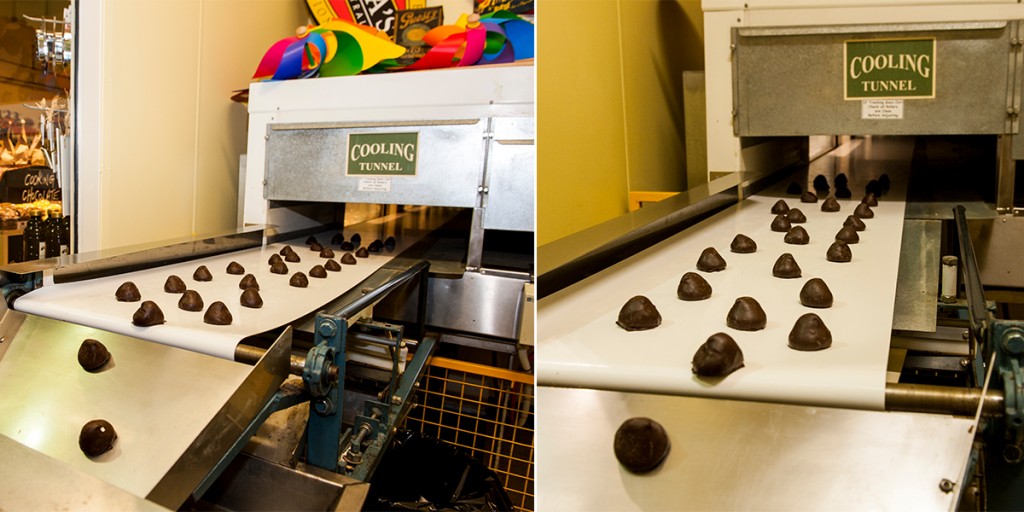 Generally speaking, modern day Cooling Tunnels can take 20 minutes to solidify the chocolate. Our handmade tunnel takes 14 minutes and continues to run smoothly and effortlessly after more than 20 years.
Visit our Woodside factory and watch the magic of our Enrobing Machine and Cooling Tunnel in action. Our Melba's Team are always happy to discuss production methods with visitors and enjoy sharing the history of our factory with you all.