Discover the wonderful Adelaide Hills this winter and indulge in some of SA's most iconic locations. If you're stuck for things to do, check out our teams top picks for the cooler months in our neck of the woods…
Warm up in front of a quintessential pub fire
There's nothing more wintery then warming up in front of the classic, small-town pubs hidden amongst the Adelaide Hills. Some of these pubs have been around for over 150 years, and are riddled with history. If you're looking for a traditional German feast, check out the iconic Hahndorf Inn or German Arms Hotel. Maybe the Stanley Bridge Tavern or Lobethal Bierhaus are the way to go. These local destinations are sure to warm up your belly on these cooler, winter nights.
Explore the Hills (literally)
Take a hike through the Adelaide Hills and see the wonderful Australian landscape through a local's eyes. The Heysen Trail runs through the Adelaide Hills and walkers, runners or cyclists can join at any point. The 2-3 hour loop through Bridgewater and Mount George, allow you to truly escape the hustle and bustle of your busy week.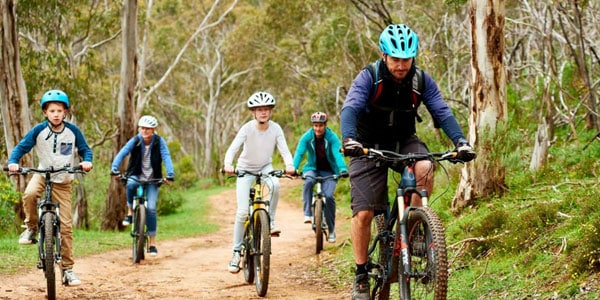 More of a cyclist? The Amy Gillet Bikeway, flat, traffic free bike trail boasts incredible vines and villages as you ride through. The 17km trail runs from Oakbank to Woodside, to Charleston and Mount Torrens. Perfect for the kids, it's a family-friendly bike track.
Indulge in SA's Best
South Australia is known as a foodie destination. With an abundance of wineries and food locations throughout, it's a top pick for lovers of all things delicious. And the Adelaide Hills is no different.
We're home to some of the world's premier producers and are proud to call this region our home. If you're looking for some truly indulgent spots to try this winter, our team suggest starting with this handy guide. You'll find a great list of wonderful restaurants and wineries to check out.
If it's more of a sweet craving you have, we certainly know the spot. Our Woodside chocolate factory is the sweetest destination of them all. Melba's has long been located in the picturesque Adelaide Hills and boasts over 100 delicious chocolate and confectionery products. Take a drive to Melba's and see the magic for yourself – our production team are always happy to discuss their methods of creation.
For more information on things to do this Winter, check out the South Australia, or Adelaide Hills Tourism website.