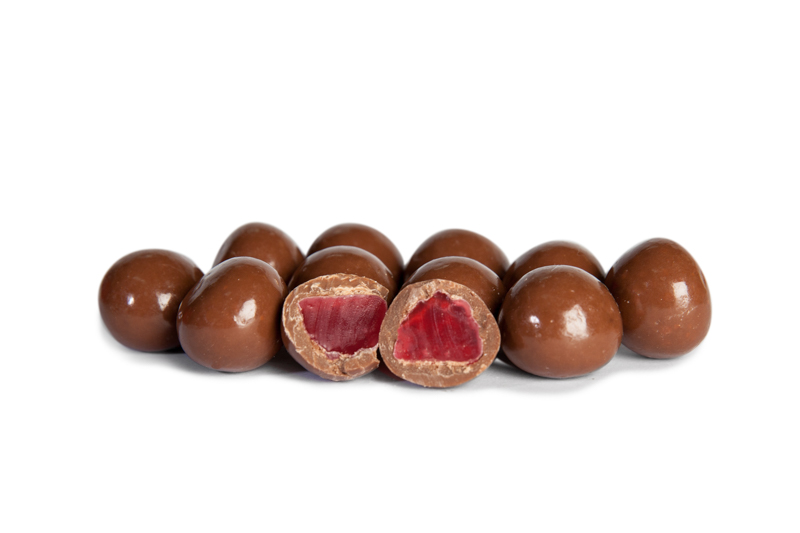 When the Edible Blooms team approached Melba's in 2020 to include our famous Chocolate Coated Raspberries in their luxury gourmet hamper gift range we said 'Yes!'. Edible Blooms is another proud South Australian family owned business, created by Kelly Jamieson and Abbey Baker in 2005.
We asked the Edible Blooms team why they chose Chocolate Coated Raspberries from our range and they insisted that it's their staff favourite from Melba's.  Featured in many of Edible Blooms' best-selling hampers, their team has summarised why this delicious little chocolate treat is a favourite:
Flavour combination: The sweet and slightly tart flavour of raspberry jubes pairs perfectly with the rich and creamy taste of milk chocolate. The contrasting flavours create a delicious balance that many people find irresistible.
Texture contrast: The soft and chewy texture of the raspberry jube complements the smooth and velvety texture of chocolate. The combination of the two textures adds a delightful sensory experience to each bite.
Visual appeal: They look super cute decanted, which makes them the perfect addition to a hamper, and when shared with guests they can provide a surprise taste sensation. As opposed to more traditional chocolate treats like chocolate-coated nuts. Cut them in half and the vibrant red colour of raspberries against the glossy, brown chocolate coating creates an attractive and visually appealing treat.
Health benefits: Raspberries are known for their nutritional value but alas we are enjoying raspberry jubes. However, we do believe that when coated in delicious creamy milk chocolate for a hot minute, they make all your worries go away…
Indulgence factor: Chocolate-coated raspberries can be seen as a luxurious and indulgent treat for the taste buds. The combination of the fruity sweetness of raspberries and the decadence of chocolate creates a sense of indulgence and satisfaction.
Overall, the combination of flavours, textures, cute appeal, and the indulgent nature of chocolate-coated raspberries makes them a popular choice amongst our chocolate lovers.
Don't believe us? This is what founder Kelly Jamieson of Edible Bloom's had to say.
"If Willy Wonka had a dream chocolate, this would be close to it. As a business, we are all about surprise and delight. Melba's chocolate-coated raspberries fit perfectly into that strategy. The unexpected flavour sensation and high-quality ingredients all add an extra taste sensation to our hampers".
Just as important as the ingredients, is our desire to work with like-minded local South Australian businesses.
As a family-owned business in South Australia, our first desire is to source great products, made from high quality ingredients and ideally within the state. Melba's use of traditional chocolate-making techniques and history of creating amazing chocolate treats made them a perfect hamper partner for Edible Blooms.
Check out our favourite hampers featuring Melba's chocolate-coated raspberries:
Birthday in a Box Sweet Celebration