Celebrate Christmas with Melba's Chocolates this year! We're opening late again, welcoming you all to our Woodside factory.
From 14th – 23rd of December, 9am to 10pm, our Woodside factory will be buzzing with activities and fun for the whole family. Santa is on his way, along with our wonderful face painter Juliette, and very talented Baloon Artists. Come and enjoy the ambiance of our annual celebration, with a delicious Melba's Hot Chocolate, Mahalia Coffee and a factory full of amazing Melba's chocolates.
This year, we are again taking $2 donations to add a personalised bauble to our gigantic Christmas tree; spreading the spirit of Christmas to all.
Every dollar donated goes to South Australian children who are sick, disadvantaged or have special needs.
We're hoping to raise a massive $5,000 and hope that all visiting can assist us reach this goal! If you can't get up to see us but would still like to donate click here.
Santa is set to be visiting our factory on the following days…
Weekends (14th & 15th, 21st & 22rd December)
1.30-3.00pm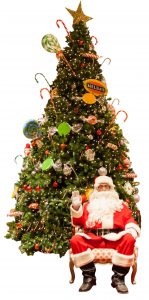 3.30-5.00pm
5.30-7.00pm
7.30-9.00pm
Weekdays (16th to 20th December)
3.30-5.00pm
5.30-7.00pm
7.30-9.00pm
Juliette the Picasso of Face Painter will be at the factory from:
Saturday 14th – Sunday 23nd | 5pm to 9pm.
Nifty Entertainment the Balloon Twisting extraordinaires will be at the factory from:
Saturday 14th – Sunday 23nd | 5pm to 9pm.
To stay in the loop with all the details, RSVP to our Facebook event.
Stock up on your favourite Melba's chocolates and confectionery goodies this Christmas, with our wide range of sweets and giftware. And if you're visiting the famous Lobethal Lights, why not pop by on your way there or way home, you wouldn't want to miss out on the fun.
If you can't get to the factory, you can always order online! For delivery before Christmas Day, purchases must be completed online by the 16th December 2018. Online orders will still be accepted after this time, however we are unable to guarantee delivery before Christmas.
We hope you all have a wonderful festive season!