Visit us this Easter Long Weekend and join in the family-fun Entertainment!
We're celebrating Easter all long weekend, and will be open daily from 9 am – 4.30 pm, Good Friday 15th April to Easter Monday 18th April 2022.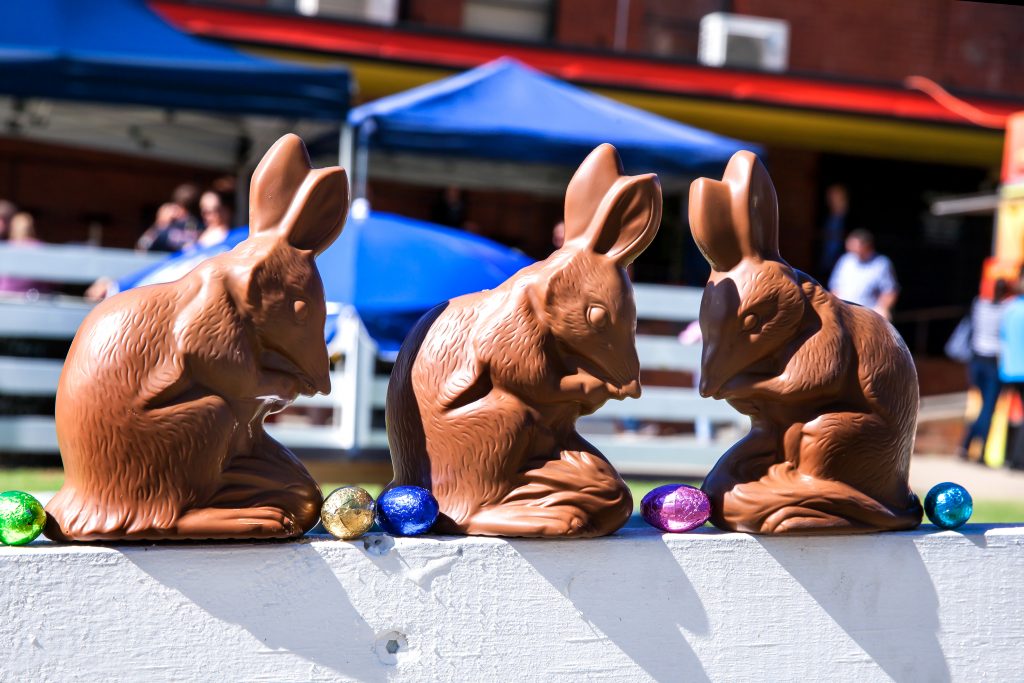 Bring the whole family and join in on the Easter fun! Enjoy lunch on the lawns, with either a delicious Melba's Hot Chocolate, Mahalia Coffee, Milkshake, Ice-Cream and indulge in an endless supply of yummy Chocolates and Confectionery. We'll be open daily from 9 am to 4:30 pm with FREE family-fun entertainment daily, including:
FREE Hand & Arm Painting, from 12 pm to 4.30 pm
FREE Balloon Creations, from 12 pm to 4.30 pm
Maxine's Baked Potatoes, serving from 9 am to 4:30 pm
Uz Gozleme, serving 11 am to 4:30 pm Friday and Saturday
Garden Games
FREE Face Painting & Balloon Creations, 12 pm to 4.30 pm daily
Our resident Face Painter will be back for another fun-filled Easter weekend, providing FREE arm and hand painting for the entire Easter long-weekend!
Nifty Entertainment will also be back again this year, with free balloon creations for the kids!
Maxine's Baked Potatoes, serving daily from 9 am to 4:30 pm
Maxine's Baked Potatoes will be back again this year, they'll be setting up at the front of our Factory and offering a large variety of yummy food options. Check out their menu for the Melba's Easter Weekend here.
 Uz Gozleme, serving from 11 am to 4:30 pm both Friday and Saturday
We're excited to welcome back Uz Gozleme to our Woodside Factory for Easter! They'll be serving their delicious Hand rolled & grilled Turkish Pastries for you to purchase from 11:00 am – 4:30 pm Friday and Saturday!
Garden Games
Our Garden Games will be set up at the front our Factory for you to enjoy a family round of our Giant Connect 4, Ring Toss or Cornhole.
Save The Bilby!
Our Easter Bilby is not only delicious, but it is also very unique and special to Melba's.
In 1993 Graeme and Joy Foristal received a letter from then 8-year-old Rebecca who along with her classmates petitioned for a Chocolate Bilby to be made at Easter to help raise awareness of our Australian Native Marsupial. It was of course with this irresistible request that Melba's made the very first Milk Chocolate Bilby!
Today we continue to celebrate the Easter Bilby and raise further awareness of them by teaming up with Zoos SA and with this for every Chocolate Bilby we sell, Melba's donates part proceeds to the Zoos SA Greater Bilby Conservation! So, hop to a great cause and pick up all your delicious Chocolate Bilbies over the Easter Long Weekend!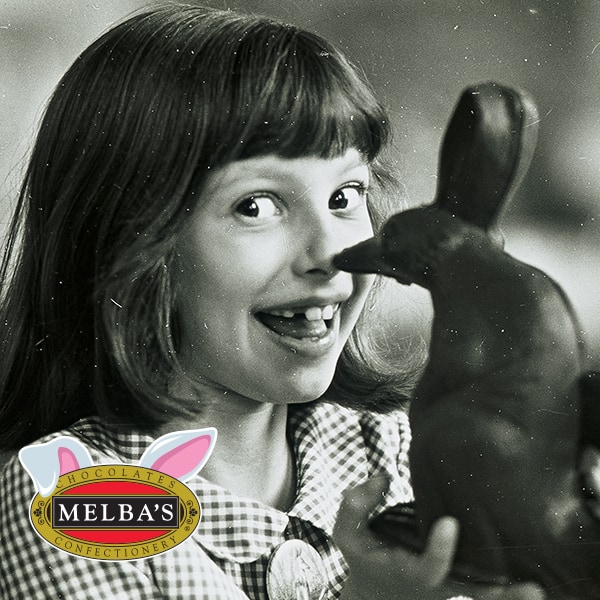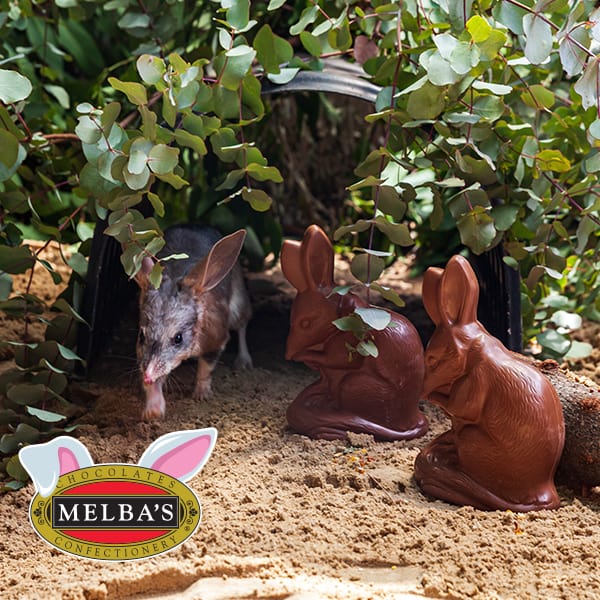 Easter Shopping
With trading hours spanning the entire long weekend, including Good Friday, our factory is the one-stop-shop for all your Easter treats. And with ample car parking, it's the best and most relaxing way to keep the kids busy!
If you can't make it to the factory over the weekend, our online store boasts our entire Easter range, with delivery Australia-wide. For the best chance of pre-Easter delivery, please ensure you place your online order before Friday 1st April 2022, orders after this date will still be dispatched, however we cannot guarantee delivery.
If you have any further questions, contact our Woodside factory via email, or phone us (08) 8389 7868.