Our Corporate Range
Are you looking for a selection of gifts for your team, supplier or clients?
Melba's Chocolates and Confectionery have been supplying Corporate Giftware for years, and offer a wide variety of delicious and beautifully presented packages. No matter the size or diverse nature of your business, Melba's Corporate Range can bring festive cheer to your workplace.
New Melba's Bon Bons
This year we have a new addition to our range. Our Melba's team were seeking something unique for the Christmas season, and what better way than a Melba's Bon Bon. Including our three Melba's characters, there truly is nothing more delicious and suitable for the upcoming festivities.
Popular Corporate Options
Besides the new additions to the Corporate Range, we've jam-packed your Melba's favourites into beautifully presented giftware suitable for any client, supplier or workplace.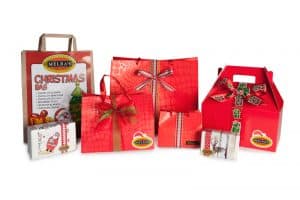 Some of our most popular products are packed into our Melba's Christmas Bag which includes 2x Milk Santas, Milk Cashews, Milk Honeycomb, Milk Raspberries, Milk Rocky Road, Milk Scorched Almonds and Milk Sultanas. This goody bag is one of our most 'in demand' gifts and flies off the shelf every year, both as a corporate gift and in our factory.
Besides the Christmas Bag, Melba's Deluxe Christmas Pack is our ultimate Christmas hamper, packed to the brim with Milk Aprichocs, Milk Rocky Road, Milk Raspberries, Milk and Dark Scorched Almonds – just to name a few.
And the Christmas Caddy is another gift option that provides  a true taste of Melba's, all in the festive spirit. With similar inclusions to the Deluxe bag, it's a smaller version for those purchasing in larger quantities. The Caddy includes, Milk Aprichocs, Milk Peanuts, Milk Macadamias, Milk Raspberries, Milk Rocky Road, Milk Scorched Almonds and Melba's TV Mix.
Smaller Gift Ideas
Besides our grand gift ideas, Melba's have options for any sized budget. Our smaller options are beautifully presented and include some of our staple chocolates and confectionery.
Whether you're catering to large organisations or small businesses, Melba's Corporate Giftware has you covered.
To view our Corporate Gift Order form, click here. And for anymore information about our Corporate Giftware, don't hesitate to contact our Woodside factory on PH (08) 8389 7868 or admin@melbaschocolates.com.au