Check out our team's top picks for the new year!
Can you believe it's already mid January? Time flies when you're having fun, and our team are certainly enjoying the post-Christmas break. But that doesn't mean we haven't been flat out. Visitors are still flooding through the door, from all around the state and country, Melba's has become abuzz with a diverse range of tourists. Besides the variety of visitors we've had, our Melba's team have put together their top picks for 2017, from delicious choc-a-block slabs to our famous Inch Licorice and Milk Chocolate Raspberries, you'll spot some of your favourites amongst our list.
5. Milk Chocolate Black Forest Slab
With the authentic taste of Black Forest cakes, our leading hand Jack worked hard to ensure no one would be disappointed; and my goodness did he succeed. Our Black Forest Slab, with creamy Melba's Milk Chocolate, crunchy biscuits and chewy raspberry jellies, is certainly hard to resist. As one of our newest additions to our product range, the Black Forest Slab is proving to be a sure-fire hit for all.
4. Milk Chocolate Raspberries 
If you haven't already tried these soft-centred chocolates, you're in for a treat. They're by far one of our most delicious products and are always at the top of our staff's favourites list, flying off the shelves every day. And if you're after something a little sweeter, why not try our White Chocolate Raspberries?
3. Milk Chocolate Rocky Road
One of our most recognisable and popular products, Melba's Rocky Road is a staple in every shopping basket, and for good reason. With the sweet combination of peanuts, coconut, glacé cherries and creamy Melba's milk chocolate, you'd be silly to walk out of our doors without your own packet. Available in white, milk and dark chocolate, there's an option for all.
2. Cookies & Cream
New to our product range, and a sweet option for all chocolate lovers out there, our Cookies and Cream slab is a delicious new addition. With the tick of approval for all staff, this recipe is a sure-fire hit. Packed with crunchy cookies and our very own white chocolate, it's snapped up faster than we can pack it.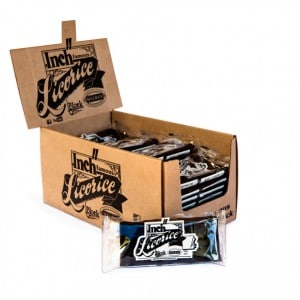 1. Inch Licorice
One of our biggest sellers, and most recognisable and iconic products, our Inch Licorice is a staple in all Australian confectionery stores. Not only do we sell it by the truckload at our Woodside factory, but they're ordered for stockists around the country. Although it's not as creamy as the other four options in Melba's Top Picks, this Licorice block is by far our most popular product and will always place highly in any of our picks.
So if you're looking for something delicious when you're next up at our Woodside factory, be sure to pick up one of Melba's Top Picks for 2017. We guarantee you won't be disappointed!