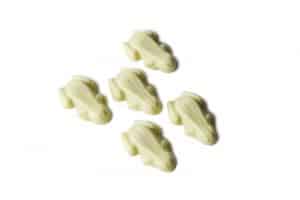 It's been a scorching start to the new year, and we've all certainly felt the sting of summer. In every corner of the state, the weather has been escalating, and it shows no signs of slowing down. But for our team in Woodside, it's easy to cool down when you're working in a former cheese and dairy factory, the insulation here is phenomenal! But that certainly doesn't mean we're not escaping to the beach at every free moment. When we're not stretched out on our beach towels, enjoying the serenity of the Adelaide shores, we're busily working, creating some of your Melba's favourites. And one of our summertime favourites this year is our Green Mint Chocolate.
Green Mint Chocolate
You can truly taste the flavour of this Melba's Chocolate variety. Straying from tradition, and hardly a newcomer to our range, our Green Mint Chocolate is the perfect flavour to tantalise your senses this summer. And we're pretty sure it's the only one of its type throughout Australia – and that's pretty cool!
When we asked our shop staff what they love best about our Green Mint Chocolate, Haddi described it as
"Minty freshness, something that can be easily enjoyed even when the temperature is at its peak"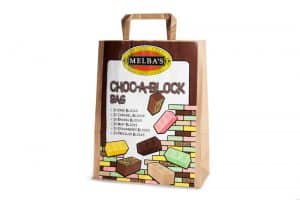 She said that she was "surprised that it doesn't sell out weekly". Similar to our previous blogs where we described Melba's Top Picks for 2017, our Green Mint Frogs and Three-Piece Blocks are amongst some of our more underrated products. Other varieties are available in our Melba's Frog Bag, Melba's Dinosaur Bag and our mega Choc-A-Block Bag.
How we make it
Our Depositing Room team use a combination of our white chocolate with green colouring and peppermint oil to create this delicious flavour experience. It's then continuously stirred using a Palette Knife, until it becomes that glorious green colour and flavour you see packaged on our shelves. Once this step has been achieved, we pour the 'goo-like' substance into the depositing machine and watch the magic happen. Depending on what we're after, or where demand is high, we pour the chocolate into the relevant moulds and refrigerate them for sometimes up to an hour (depending on their size). They're then ready to be boxed up according to their moulds, flow-wrapped, priced and sold. You can find these products throughout our factory, either sold individually, or in our themed bags.
Watching this process unfold is always a sight to behold. The interesting colour of the chocolate, both surprises and entices people to try it; and we're always refilling our shelves when the Depositing Staff are producing this particular flavour.
If you'd like to experience this flavour for yourself, our entire Green Mint Chocolate Range is available online and in store! Pick some up today!