Easter is just around the corner, and excitement is building as our Melba's team get ready for the rush of the long weekend! Over the past couple of weeks our team have put together their top Easter Picks for 2018, and you'll be surprised to see some old favourites, and new ones amongst the mix!
All our iconic Easter hollowforms are produced right here at our Woodside factory in the depositing room by our lovely team. If you're in and around the factory in the upcoming weeks you'll probably see the magic yourself – it's such a sight, especially when they're pouring the gooey chocolate!
These products are unique to Melba's, as is the history surrounding some of the most iconic Easter characters. Like our top selling, and ever-popular Easter Bilby.
The Easter Icon!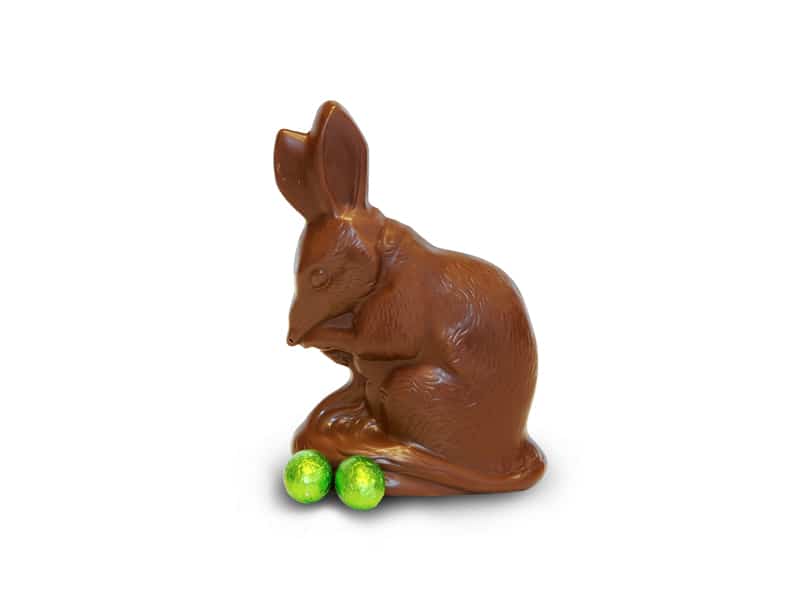 Ever since our matriarch Joy Foristal received a petition from an eight-year old school girl, Rebecca Hart and her classmates asking Melba's to produce an Easter Bilby, the top selling Easter product has remained just that.
Our Easter Bilby is a staple in requests every year, so much so we now produce them in Dark, Milk and White chocolate, and also a No Added Sugar variety. They're the pinnacle Easter treat, uniquely Australian, the perfect addition to your Easter shopping list. For more than 25 years Melba's has been producing the Bilby, with thousands upon thousands sold every year. Not only do we sell them in hollowforms, but our bite-sized versions are now beautifully boxed as the perfect Easter treat.
Giant Bunny Goodness!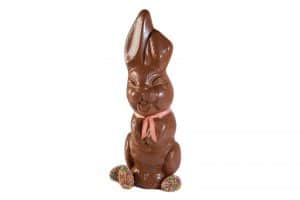 Although the Bilby is iconic in Australia for its plight and native status, nothing could replace the popularity of the Easter Bunny – especially when they're GIANT! There's nothing more impressive then giving, and receiving, a massive 1kg, 47cm tall, Giant Easter Bunny.
These mega chocolate treats will send the kids mad with excitement! It might not look massive in the image, but my goodness, it's a handful when you see it in real life.
A gift for everyone…
Our beautifully hand wrapped hampers are the gift that keeps on giving. Take for example our Melba's Easter Hamper, and our entire collection of unique hampers.
With an abundance of delicious Melba's chocolates, this collection of popular treats is the best way to spoil the entire family. And the best part is, it includes some of our most famous chocolate delicacies, like our Milk & Dark Rocky Road, Milk Raspberries, Dark Cherrychocs and our Milk Aprichocs – it's the best combination of our most regular and Easter range! Our entire giftware range combine Melba's favourites, and Easter specialties. We pride ourselves on ensuring that no one misses out, and sometimes it's hard to cater for a family when Easter comes around – so these hampers are a great gift for everyone!
They're colourful and unique, and the best bet when it comes to finding something delicious!
There's something for everyone this year at Melba's Chocolates, even more so with our exclusive gift range.
With all the variety on offer at our Woodside factory, Melba's is the one-stop-shop for all your Easter treats. If you're looking to order any of our range, be sure to place your online orders no later than this Thursday 22nd March 2018, to ensure pre-Easter delivery.
If you need a hand selecting, or would like to talk to one of our friendly team members, contact our Woodside factory via email or phone us (08) 8389 7868.