Our Twilight Trading is back for another year of festivities, and we couldn't be more excited. From the 15th December, to 23rd December, our doors will be open from 9am to 10pm and our team are buzzing with anticipation.
Melba's Chocolates has long been an iconic destination all year round, but there's nothing more fun than our Twilight Trading – and we're back for another year.
Father Christmas is making an appearance and he's never been more thrilled to be back at the Woodside factory. With his suit back from the dry cleaners, his boots polished up, and his belly full of sneaky Lime milkshakes from the Coffee Shop – Santa is READY! Juliette our incredibly talented Face Painter will be around, spreading Christmas cheer to all with FREE face painting. And our colouring in competition will be on, with the chance to win a massive 1kg Chocolate Father Christmas. WOW!
We've got some more surprises up our sleeves, so stay tuned to hear all about them!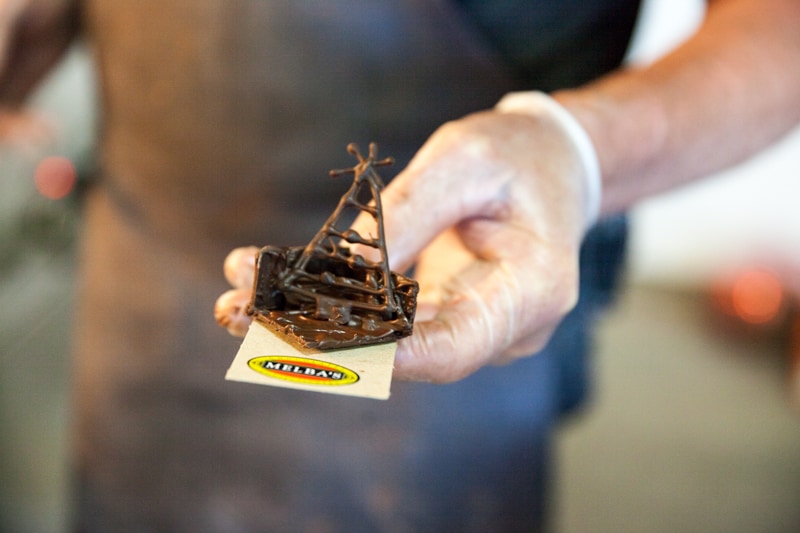 Besides our wonderful additions, our factory will be producing your Melba's favourites. All hands are on deck to ensure every one who walks through our doors enjoys the ambiance and festivities of the Christmas season. We've also got a magnificent Christmas gift range, packaged beautifully, you'll find something for anyone.
To make our Christmas season that little more special, Melba's & Variety SA have joined to purchase gifts for children effected by domestic violence in the state. To donate, visit our factory and purchase a $2.00 personalised bauble to add to our enormous Christmas tree. Our team are thrilled that together with the local community, we're bringing smiles to all children across the state. Learn more about our partnership here.
Be sure to RSVP to our Facebook event to stay up to date with all the details!
We couldn't be more excited to celebrate with you all.