Looking for something for your team, supplier or clients? Melba's has the perfect selection of gifts for everyone!
Download your copy of our Corporate Christmas Gift Catalogue. If there are any issues in downloading the PDF file, please email us or call on 08 8389 7868.
Alternatively, if you are looking for customised gifts, we offer a large range of colours, shapes and sizes to match any company or team colours. If you're interested in this, please contact us on the details provided below.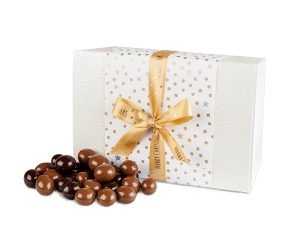 To ensure you receive your orders before Christmas, we recommend placing orders by close of business on the 11th December 2023.
Orders placed after this date, we cannot guarantee delivery.
All Christmas orders will be dispatched from week commencing the 6th November 2023.
Melba's Chocolates & Confectionery
22 Henry Street, Woodside
admin@melbaschocolates.com.au
08 8389 7868